Quartz: Not to be (mis)Taken for Granite
It seems like quartz is the new "It Girl" in the world of countertops. In our latest project, our clients chose Caesarstone's Statuario Maximus quartz to top their white, high gloss Cabico custom cabinets for their Daytona Beach penthouse condo. Just a quick glance at these photos and it's easy to see why.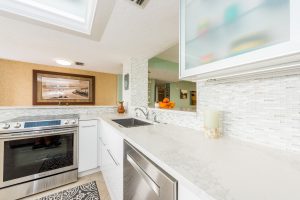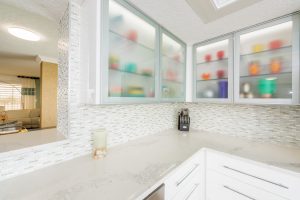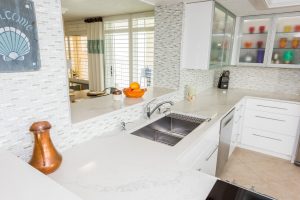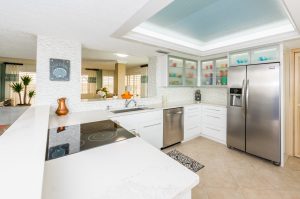 With so many obvious check marks in the "pro" column, quartz is a great option. One of the questions we get asked most frequently, is "what's the difference between quartz and granite?" That question is almost always followed by " and which one is better?"
The first question has an easy answer. The second…well, that's a different story.
So, what is the difference between quartz, the new front-runner of the countertop kingdom, and her never-to-be-outdone sister, granite?
Quite a bit, actually. But just as parents can never pick a favorite child, neither can we pick a favorite when it comes to these two.
Let's start with quartz, our clients' choice in this most recent kitchen remodel.
Quartz is the spunky, new kid on the block. Everyone likes her and if you peeked in her high school yearbook, you wouldn't be surprised to find she dated the quarterback and was Captain of the cheerleaders. She's exactly what everyone didn't even know they wanted until she showed up loud and proud on the kitchen scene. Because quartz is a man-made product, worrying about stains is a thing of the past. Quartz's non-porous nature means it's impenetrable to germs and haters alike. Quartz is essentially the Taylor Swift of countertops…there, we said it. Look what you made us do.
Big sister, granite, is a natural beauty. In every setting, her honed, earthy features quietly highlight her kitchen co-stars, making sure even the ordinary shines. She is strong and steady, deep and contemplative, with unrivaled class and dedication to duty; the ever-faithful companion to her chosen partner—the humble cabinet. She is the reason baby sister had to step up her game to compete with the innate star. Granite, like Jackie O, will never go out of style.
We, like all good parents, love both equally. When it comes to "which is better", it is simply a matter of individual taste. Luckily, we live in a world where quartz and granite co-exist and both stand ready to compliment your sense of style. All you have to decide is whether Taylor or Jackie is your girl.
SaveSave