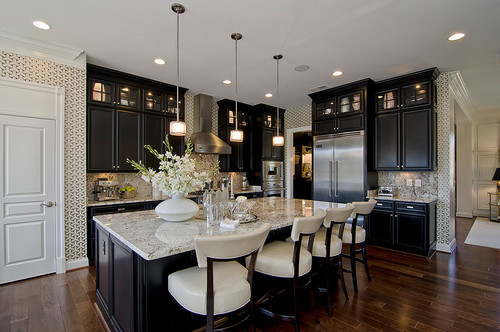 Photo Source: Houzz.com
The farmhouse style brings in a warm and homey feel, connecting life and land, functionality and comfort. This style uses a lot of open shelving, wide sinks, classic flooring, and a big kitchen table. They're very easy to work in and roomy.
Rustic Style Kitchen
Rustic kitchens are well-loved, cozy, and worn in. They tend to have a lot of timber, stone, brick, and vintage appliances.
Modern Style Kitchen
There are different variations of modern styled kitchens, but most often modern comes with frameless cabinets, sleek and simple hardware, strong horizontal lines and a lack of ornamentation. Modern styles try to emphasize the natural beauty of the materials within your kitchen.
Traditional Style Kitchen
Traditional kitchens put an emphasis on their details: arches, decorative moldings, corbels, raised-panel cabinets, and a mix of antique finishes. Whether the kitchen is classic American or old-world styled, each one comes with their own personality.
Contemporary Style Kitchen
Sleek but with more playful touches, contemporary kitchens tend to include elements of other styles to create its own reflection of the times.
Transitional Style Kitchen
Transitional kitchens tend to mix the best of contemporary and traditional styles. They bring in the warmth and welcome of the traditional design, simple and clean lines of contemporary style. Transitional spaces bring in balance and harmony while offering flexibility.
Cottage Style Kitchen
Cottage kitchens welcome simpler times, with a cozy and bright feel. Rich in beadboard, soft colors, vintage hardware, wood floors, and colorful accents will give you the best of the cottage style kitchen.
Classic Style Kitchen
Classic styled kitchens put an emphasis on white or cream kitchen cabinets, simple architectural details, and black accents. Classic kitchens tend to be very crisp and bright.
Eclectic Style Kitchen
Mix and match any style to create your own distinct kitchen style. Do as you please!